by Kevin Lamár Peterman
We live in an era where college and university presidents come and go, and the turnover rate among leaders of post-secondary institutions continues to rise. The American Council on Education recently reported that the average tenure of a president has fallen to approximately seven years. While this is inclusive of all presidencies, this trend has also had a major impact on the Historically Black College & University (HBCU) community. HBCUs rely heavily on the leadership of strong presidents who seek to move their respective institutions forward while maintaining core values that are indicative of the Black College experience. These individuals are not simply expected to generate new streams of revenue while managing day to day administrative tasks that keep colleges and universities afloat. They are the keepers of culture. They are standard bearers. They are community leaders. They are the driving force behind innovative ideas and findings that will advance the race and humanity at large. Above all, they are the shepherds that nurture and develop marginalized sheep who will transform society. For these reasons, dozens of HBCUs sit eagerly with high expectations, awaiting the official announcement of a new leader each year. This year has been no different. In fact, it has been an exciting year due to a few exceptional appointments that were made recently. This week's MSI Line Up highlights several presidential appointments made this fall.
1) Ruth J. Simmons, Ph.D.—Prairie View A&M University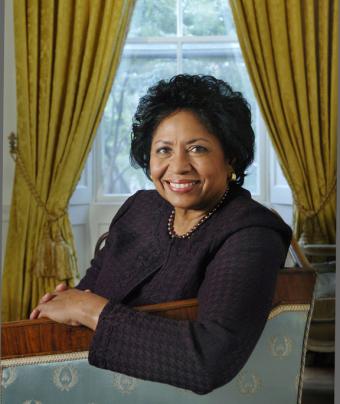 The recent appointment of Ruth J. Simmons as permanent president of Prairie View A&M University shocked the nation and the academic community. Simmons has served the university as Interim President since July, but was not expected to fully forgo retirement for a third presidency.  A veteran higher education professional and scholar, Ruth Simmons has dedicated her entire career to  break in the advancement of higher education in the United States. Simmons became the first African American to lead an Ivy League institution when she became the president of Brown University in 2001. She is also the former president of Smith College and served as the vice provost at Princeton University and provost of Spelman College. A graduate of Dillard University, Simmons also received a Ph.D. in Romance Literature and Languages from Harvard University. Dr. Simmons comes to Prairie View after retiring from Brown in 2012 and stated, "I have deep roots in Texas, and I was looking for a way to do something helpful for my community." Learn more about the appointment of Dr. Simmons here.
2) David A. Thomas, Ph.D.—Morehouse College
Historically, the presidency of Morehouse College is one of the most revered positions in American higher education. David A. Thomas was named the 12th President of the college in October and will officially begin his term on January 1st . Dr. Thomas is a graduate of Yale University, holds a Masters degree from Columbia University and a Ph.D. from Yale. Thomas starts at Morehouse after a long career at Harvard Business School where he was the H. Naylor Fitzhugh Professor of Business Administration. Before returning to Harvard in 2016, he served as Dean of Georgetown University's McDonough School of Business from 2011 to 2016. There, Thomas raised $130 million to advance the school's mission. An expert on issues pertaining to diversity and organizational leadership, David Thomas hopes to launch a major capitol campaign with the goal of raising revenue for the all-male liberal arts college in Atlanta. Morehouse is currently celebrating is sesquicentennial and Dr. Thomas will become the first non-alumnus to lead the College in fifty years. Learn more about  the appointment of Dr. Thomas here.
3) Roslyn Clark Artis, J.D., Ed.D.—Benedict College
Roslyn Clark Artis became the President of Benedict College located in Columbia, South Carolina on September 1, 2017. Prior to pursuing a career in higher education, Artis practiced law with Brown & Levicoff PLLC and The Wooton Law Firm. Dr. Artis earned a Bachelor of Arts degree in Political Science and a Juris Doctorate degree from West Virginia State University. She also holds a Doctorate in Higher Education Leadership and Policy from Vanderbilt University. Artis is the first woman in Benedict College's 147-year history to lead the institution. She was also the first woman to serve as president of Florida Memorial University in Miami, Florida. She was appointed in 2014 and is lauded for recruiting a monetary gift of $3.8M, the largest donation given in the university's history. Dr. Artis is a gifted administrator with a broad skill set that will have an enormous impact on Benedict. Learn more about the appointment of Dr. Artis here.
4) Hakim J. Lucas, Ph.D.—Virginia Union University
With nearly two decades of experience in higher education administration, Hakim J. Lucas was appointed by the Board of Trustees of Virginia University to serve as the university's 13th president. Lucas starts at Virginia Union after serving as the Vice President for Institutional Advancement at Bethune Cookman University in Daytona Beach, Florida. He has an extensive fundraising portfolio and a background in development. Prior to that, Dr. Lucas was the Director of Development at State University of New York at Old Westbury and the Dean of Institutional Advancement and Development at Medgar Evers College in Brooklyn, NY. Dr. Lucas earned his Bachelor's degree from Morehouse College, a Master's degree in education from Tufts University, and a Ph.D. in  Church and Non-Public School Leadership from Fordham University. Lucas, the son of ordained ministers and a minister himself, also earned Master of Divinity from Union Theological Seminary. His religious background makes him a perfect fit for an institution like Virginia Union which is steeped in the Black religious tradition. Learn more about the appointment of Dr. Lucas here.
Thoughts on any of these great new presidents? Share them in the comments below!